4.8

/

5

(

46

ratings)
Along the Danube - Passau, Bratislava, and Vienna
A bike and boat three country tour including Bratislava
Cycle along the German/Austrian border on this bike and boat tour that takes you through three countries, Germany, Slovakia, and Bratislava. Gently downhill, mostly supported by a tailwind, you experience the impressive river as it meanders in the "Great Loop" and enjoying the gorgeous landscape of the legendary Wachau with its castles and fortresses.

In Vienna, a beautiful city rich in architecture and history, you will enjoy exploring the metropolis during a wonderful sightseeing tour by bike. In many ways it is a city that is hard to describe – you really do have to see and feel it for yourself! Once you have finished sightseeing on your bicycle you can relax in any one of the many cozy cafés or in a typical Viennese wine tavern.

After a great day of cycling and exploring, relax onboard the MS Theodor Körner while listening to live music.

Highlights:

Passau, the Three River City
The Great Loop
Bratislava
Wachau-World Cultural Heritage site
Vienna- city of music and culture

Want to check out more bike and barge tours in Germany?

This tour is also offered as a guided tour called the Comfort Relax Guided Tour. Also, a full list of Danube Bike Tours is here.

2019

Season 1 (S1): August
Season 2 (S2): June / July / September

| | | | |
| --- | --- | --- | --- |
| Price per person | Main | Upper | Promenade |
| S1: ECO* cabin  | £ 691 $ 1,531 € 813 $ 1225 NOK 7656 kr 7067 $ 919 | £ 776 $ 1,719 € 913 $ 1376 NOK 8597 kr 7936 $ 1,032 | - |
| S1: 2-bed cabin | £ 755 $ 1,674 € 889 $ 1339 NOK 8371 kr 7727 $ 1,005 | £ 857 $ 1,900 € 1009 $ 1520 NOK 9501 kr 8771 $ 1,140 | £ 883 $ 1,957 € 1039 $ 1565 NOK 9784 kr 9031 $ 1,174 |
| S1: Junior Suite | - | £ 993 $ 2,202 € 1169 $ 1761 NOK 11008 kr 10161 $ 1,321 | £ 993 $ 2,202 € 1169 $ 1761 NOK 11008 kr 10161 $ 1,321 |
| S2: ECO* cabin  | £ 733 $ 1,625 € 863 $ 1300 NOK 8127 kr 7501 $ 975 | £ 818 $ 1,814 € 963 $ 1451 NOK 9068 kr 8371 $ 1,088 | - |
| S2: 2-bed cabin | £ 798 $ 1,768 € 939 $ 1415 NOK 8842 kr 8162 $ 1,061 | £ 900 $ 1,994 € 1059 $ 1596 NOK 9972 kr 9205 $ 1,197 | £ 925 $ 2,051 € 1089 $ 1641 NOK 10255 kr 9466 $ 1,231 |
| S2: Junior Suite | - | £ 1036 $ 2,296 € 1219 $ 1837 NOK 11479 kr 10596 $ 1,377 | £ 1036 $ 2,296 € 1219 $ 1837 NOK 11479 kr 10596 $ 1,377 |

*ECO cabins are bunk bed cabins

SINGLE CABIN PRICING: 
Main
Upper
Promenade
S1: 2-bed cabin ECO* single use

£

996

$

2,207

€

1172

$

1766

NOK

11036

kr

10187

$

1,324

£

1123

$

2,490

€

1322

$

1992

NOK

12449

kr

11491

$

1,494

---
S1: 2-bed cabin single use

£

1093

$

2,422

€

1286

$

1938

NOK

12110

kr

11178

$

1,453

£

1246

$

2,761

€

1466

$

2209

NOK

13805

kr

12743

$

1,657

£

1284

$

2,846

€

1511

$

2277

NOK

14229

kr

13134

$

1,707

S2: 2-bed cabin ECO* single use

£

1059

$

2,349

€

1247

$

1879

NOK

11743

kr

10839

$

1,409

£

1187

$

2,631

€

1397

$

2105

NOK

13155

kr

12143

$

1,579

---
S2: 2-bed cabin single use

£

1156

$

2,563

€

1361

$

2051

NOK

12816

kr

11830

$

1,538

£

1309

$

2,902

€

1541

$

2322

NOK

14511

kr

13395

$

1,741

£

1348

$

2,987

€

1586

$

2390

NOK

14935

kr

13786

$

1,792

REDUCTIONS:

Children 0-2 years old: Free (baby cot provided)

Children's discounts available ages 3-12 years. Please ask

Discount third person in Triple Cabin. Please ask

Discount, no bike rental: £ 63 $ 139 € 74 $ 111 NOK 697 kr 643 $ 84

Discount, no bike rental using own bike: £ 50 $ 111 € 59 $ 89 NOK 556 kr 513 $ 67

 

extra

options

E bike rental:   £ 80 $ 177 € 94 $ 142 NOK 885 kr 817 $ 106

Guided Comfort Relax:  £ 200 $ 443 € 235 $ 354 NOK 2213 kr 2043 $ 266

Transfer Munich to Passau, one way: £ 67 $ 149 € 79 $ 119 NOK 744 kr 687 $ 89

Transfer Munch to Passau, round trip: £ 110 $ 243 € 129 $ 194 NOK 1215 kr 1121 $ 146

Helmet purchase (payable on board).

Extra nights:

Passau 3 * hotel: £ 49 $ 109 € 58 $ 87 NOK 546 kr 504 $ 66

Single supplement: £ 21 $ 47 € 25 $ 38 NOK 235 kr 217 $ 28

Passau 4 * hotel: TBA

Single supplement: TBA

please

note

Rates are per person based on double occupancy.

Information to read before you book.

We recommend purchasing bike trip insurance.

† Currency exchange rate set 90 days before travel.

Travel

Fly to Munich or Salzburg.

Local Travel

From either the Munich or Salzburg airports, you can take a train to Passau. From Munich airport, the train ride is approximately 2.5 hours. You can also book transfer from Munich Airport to Passau (see pricing options). From Salzburg Airport, the ride is approximately 3.5 to 4 hours.

Climate

Please check local conditions before your arrival. A good website to use to research regional weather including average high/low temperatures, average rainfall, and other weather-related information is weatherbase.com.

Remarks

Helmet purchase available on board

DOCUMENTS

Before you travel, please check your country's passport and visa requirements and the passport and visa requirements of the country/countries you plan to visit. For US citizens, the US Department of State website is a good source of information. The Country Information tab in the International Travel section provides details about passport validity, blank passport pages required, etc. For our other international clients, please be sure that you research your own country's travel requirements. It is each traveler's responsibility to ensure proper documentation.

*Important note: Beginning July 1, 2021, additional documentation from the European Travel Information and Authorization System (ETIAS) will be required to visit any of the 26 Schengen-member countries for tourism, business, medical, or transit. This is an additional check on security rather than a visa.

---
Tour
Dates
2019
Departures every Saturday from May 11 to September 21, 2019 - Except June 15, 22, August 3, 10, & 31, 2019.
*Comfort Relax Guided dates: June 8, July 6, 27, August 24, and September 21, 2019 .
*Maximum of 22 persons with guided group.  Other dates can be requested with minimum of 8 participants.
Please see our tour page Along the Danube Passau to Vienna for the 2020 itinerary on the Theodor Körner which will include a full day in the picturesque Wachau Valley, a World Cultural Heritage site famous for its wine. Dinners on board will include a beverage package with wine and beer.
Skill
Level
This is an easy tour following the flow of the Danube. The route is mostly flat but there are some rolling hills especially coming out of the Danube valley. It takes place on good, asphalt bike paths very suitable for beginners and children. Daily distances can sometimes be adjusted and of course, you can always stay on board!
Where
You'll Stay
Accommodations aboard the premium class ship, the Theodor Korner
What's
Included
7 nights on board including towels and linen
Welcome cocktail
Full meals (breakfast, onboard lunch for non-cyclists/bag lunch for cyclists, and dinner - choice of two or three dinner entrees each evening)
Afternoon coffee break or snack
Late night snack (
Daily cabin cleaning
One Gala Dinner with a farewell cocktail and farewell crew show
Daily live music
Tour leader on board (does not cycle with the group)
21-speed unisex bicycle including lock, handlebar bag & pannier
GPS tracks available for download
Information packet with route book (one per cabin)
Daily informational meeting
Port fees
If you book the Comfort Relax package, also included:
Cycling tour guide
Two ferry rides
Cider tasting in the Upper Danube Valley
Visit of Austria's oldest theater in Grein
Wine tasting in the Wachau region
Guided city tour by bike in Vienna
City tour with scenic train + walking tour in Bratislava
What's
Not Included
Helmet purchase
Beverages (one 1/2 Liter of water per passenger provided daily)
Day-To-Day
Itinerary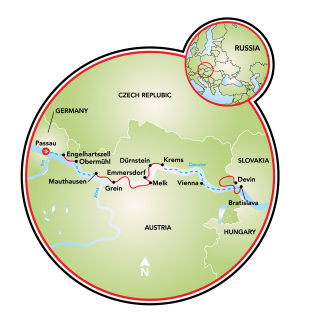 Day 1: Passau
Day 2: Mauthausen - Grein, 22 mi. (35 km)
Day 3: Devin - Bratislava, 11 to 30 mi. (18 to 49 km)
Day 4: Vienna (day of rest)
Day 5: Wachau/ Krems - Melk, 21 mi. (33 km)
Day 6: Melk - Grein, 31 mi. (50 km)
Day 7: Great Danube Loop / Obermühl - Engelhartszell, 17 to 27 mi. (28 to 43 km)
Day 8: Passau
All distances are approximate.
Day 1: Arrival in Passau
Boarding time is at 4 p.m. The "Bishop City," close to the Bavarian/Austrian border, is also known as the "City of three Rivers." Use your free time and stroll through the old charming center, visit the world's largest Catholic church organ in the cathedral and enjoy the easy atmosphere of a typical Bavarian beer garden. At 6.30 p.m. cast off! Your vacation begins with a boat ride through the romantic Danube Valley.
Day 2: Mauthausen - Grein, 22 mi. (35 km)
Today your bike and barge tour in Germany takes you directly along the Danube where you have enough time to enjoy the natural state of the meadow landscape. Visit the medieval village and former concentration camp at Mauthausen. The Celtic village Mitterkirchen gives you an insight into the past. The alternative route, "Clam Castle," through the beautiful backcountry of the "Strudengau" is slightly hilly but offers fantastic scenery. Grein is the destination of today's stage. Home of Austria's oldest city theatre and a mighty castle (optional, not included).
Day 3: Devin - Bratislava, 11 to 30 mi. (18 to 49 km) - 2019 itinerary approximately 27 mi. (43km)
From Devin you follow the former 'Iron Curtain', cross the former border and reach the imposing Baroque Palace of Hof with its beautifully terraced gardens. Cycle through Austria's 'vegetable garden' to the coronation city and former capital of Hungary Bratislava located at the slopes of the Little Carpathians. Explore the hidden alleyways and sights of Bratislava on an optional city tour.
Day 4: Vienna (rest day)
During a city tour by bike or bus (optional) you will experience Vienna's most famous examples of architecture: the imperial Hofburg, St. Stephens Cathedral, the gorgeous 'Ring'- boulevard and the State Opera House, the Burgtheater and town hall and, of course, the colorful "Hundertwasserhaus". There is enough time in the afternoon to stroll or visit one of the famous Viennese cafés. The evening can end in numerous ways. For example by visiting a Waltz and Opera concert at a famous Viennese Palaces (optional).
Day 5: Wachau / Krems - Melk, 23 mi. (37 km)
Today's biking day is a special highlight! Amidst small dreamy towns, apricot trees, vineyards, castles, monasteries, and ruins, this hilly landscape enchants everybody. You will be biking on cloud nine! A powerful ruin looms above the small baroque town of Durnstein, while the blue spire of the monastery church is a landmark of Wachau. In Weißenkirchen (possibility for a wine-tasting – optional) you will find comfortable wine taverns right along the bike path.
Day 6: Melk - Grein, 31 mi. (50 km)
After breakfast, you have plenty of time to visit the gorgeous baroque monastery of the Benedictine brethren of Melk. Today's stage is marked by diversity. Starting in the wide valleys of the Nibelungen you follow the Danube and cycle further into the Strudengau – a narrow point of the Danube which used to be notorious amongst skippers. Yours today's destination is the – already well known – city of Grein, home of Austria's oldest city theatre (optional, not included).
Day 7: Great Danube Loop, Obermühl - Engelhartszell, 17 to 27 mi. (28 to 43 km) - 2019 itinerary shortened to 16 mi. (25km)
Today you will cycle through the Danube Valley and will pass through many picturesque villages. Along the cycle path, you may smell freshly grilled mackerels, with small pubs doing all they can to entice cyclists to stay. Make sure you follow the small walking trail to the lookout high above the Danube Loop - what a breathtaking panoramic view of the Danube Valley it provides of the meandering Blue Danube! Need a refreshment? Try some of the special cordials at the Trappist monastery at Engelszell, your day's destination. 
Day 8: Passau
Enjoy the first sunbeams and the peaceful silence of the Danube Valley on deck before you arrive relaxed at Passau. Arrival back to Passau approximately 10 AM. Disembarkation will take approximately 30 mins. Occasionally you may experience watergate delays. Therefore, we recommend that you do not make travel arrangements until after 11:00 AM.
**Optional land excursions (must be booked and paid for onboard):**
Bratislava: City tour by city express (excursion train) + walking tour
Vienna: City tour by bike or HOP ON HOP OFF bus, classical waltz & operetta concert
Wachau: Wine tasting with a local winegrower
Grein: Visit of Austria's oldest theatre
*Important Information:
In case of flood or low tide, the shipping company reserves the right to bridge parts of passages with buses. In extreme situations, the shipping company reserves the right to cancel the journey on short notice. No legal right shall be constituted of both situations. (Water level is force majeure). The same applies for officially ordered - previously not announced - repair work on locks or bridges or in case of undeserved breakdown of engine or power unit.
Please be aware that your ship,  like all other ships on the Danube, is not only your hotel for the tour but also a machine, working with engine power also during the night. Especially crossing locks and bridges - and the preparation work - may cause noise. If you are sensitive to noises, please bring your own earplugs.
Be sure to check out all of our featured bike and boat tours, or our full list of bicycle tours.
Email or Call 800-951-4384 +1 570-965-2064
---
Along the Danube - Passau, Bratislava, and Vienna
Boats + Barges
Theodor Körner Austria, Germany Premium Class Boat The MS THEODOR KÖRNER is a very spacious ship known for its comfortable and nostalgic atmosphere. The guest is treated like a king with the crew members doing their best to fulfill every wish