4

/

5

(

1

rating)
Wolfsburg to Koblenz
Germany Bike + Barge Tours
Bike and barge tour through the heart of Germany
This bike and boat tour in Germany begins in Wolfsburg. From there you'll cycle through Münster, Düsseldorf, and other famous German cities with rich historical legacies, allowing you to truly experience Germany. Nature is highlighted, as well, as you cycle the shores of Steinhuder Lake, the surrounding nature park and the Weserbergland. Through the Natural Preserve of Steinhuder Lake you will find a variety of landscape consisting of extensive moorlands and woods. Here, sailboats rule as motor boats are only allowed with special permit. The Weserbergland is the setting for the magical tales of the Brothers Grimm.

This bike and barge tour in Germany aboard the lovely Merlijn will not dissapoint you. It provides more cycling than on other tours on the Merlijn. Henk and Jantien, your captain and hostess, always create life long memories and will have you returning!

You can search our complete list of bike and barge tours in Germany here!

Twin/double: £ 1257 $ 2,787 € 1480 $ 2230 NOK 13937 kr 12865 $ 1,672 Single supplement: on request

extra

options

Electric bike or tandem bike, per diem, payable on board: £ 21 $ 47 € 25 $ 38 NOK 235 kr 217 $ 28

 

please

note

Rates are per person based on double occupancy.

Information to read before you book.

We recommend purchasing bike trip insurance.

† Currency exchange rate set 90 days before travel.

Travel

For this tour, the closest international airport to your tour start in Wolfsburg is Berlin and the closest at the end of your tour is Frankfurt. Another option is to fly into and out of Frankfurt

Local Travel

Flying to Berlin, there are two airport options, Berlin Tegel and Berlin Schönefeld. Berlin Tegel is the main international airport though you will find flights that land in either airport. If you land at Tegel, first you will take a bus from the airport to Berlin's main train station and then on to Wolfsburg. Total travel time is approximately 2 hours and 20 minutes. From Schönefeld, you would actually take a train from the airport with transfer at the main train station in Berlin to Wolfsburg. Travel time is approximately the same. If you opt to fly into and out of Frankfurt, once your arrive in Frankfurt you will access a train at the airport to Hannover, and there transfer to train to Wolfsburg. Travel time is approximately 4 hours. At the end of the tour, you will take a train from Koblenz to the airport. Travel time is 1 hour and 11 minutes.

Climate

Please check local listings prior to departure. A good website to explore average high/low temperatures and other weather related information is www.weatherbase.com. Average high/low temperatures in Koblenz and surrounding during time of travel is 68/51° F.

---
Where
You'll Stay
On the beautiful Merlijn, a Comfort Plus class ship.
What's
Included
Accommodations for 7 nights
7 breakfast buffets, 6 packed lunches, 6 3 course dinners
Coffee, tea, hot chocolate, and ice water free of charge
Use of 24 speed bike, including towel, bike bag, water bottle, and universal size helmet
Tour guide
Daily cabin cleaning service
Route information
Welcome drink
Ferry fares en route
Visit and guided tour Autostadt Wolfsburg
Entrance fee Varusschlacht
What's
Not Included
Inbound and outbound journey and transfers
One dinner
Organized city tours
Drinks other than those mentioned
Entrance fees, excursions other than mentioned
Tour
Dates
August 31, 2019
Skill
Level
Easy guided tour. Biking takes place on good asphalted bike paths and country roads. Daily biking distances are approximately 50 km on the average. The routes follow the flow of the rivers and are therefore mainly flat with only a few slight climbs.
Tour
Boats
Day-To-Day
Itinerary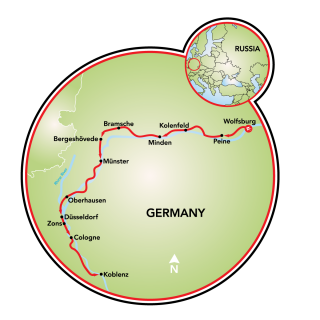 Day 1: Wolfsburg - Peine (Mittland Canal)
Day 2: Peine -Kolenfeld - Minden, 34 mi. (55 km) 
Day 3: Minden - Bramsche - Bergeshövede, 31 mi. (50 km)
Day 4: Bergeshövede - Münster, 31 mi. (50 km)
Day 5: Münster - Oberhausen - Düsseldorf, 34 mi. (55 km)
Day 6: Düsselfdorf - Zons - Cologne, 28 mi. (45 km)
Day 7: Cologne  - Koblenz, 28 mi. (45 km)
Day 8: Koblenz
*All distances are approximate. The above planned itinerary is subject to change due to changing wind and weather conditions and other unforeseen circumstances having to do with mooring requirements, etc.
Day 1: Wolfsburg - Peine (Mittland Canal)
Immediately after check in at 2 PM, a visit to the VW Autostadt. While the castle that gave the city its name is as old as 1302, the city is now a major tourist destination more for the five modern museums covering automobiles, technology, science and modern art.Afterwards you will enjoy a welcome drink, with tour presentation, where you will learn about the ship, the tour and the cycles. Meantime, your vessel has already started motoring to Peine.
Day 2: Peine - Kolenfeld - Minden, 34 mi. (55 km) 
Today you start sailing early, destination, the Midland Canal. The cycling will start in Kolenfeld, from where you can bike along the Natural Preserve Steinhuder Lake. At the end of the day, you will arrive in Minden, where the Canal flows over the Weser river, a magnificent view. Overnight in Minden.
Day 3: Minden - Bramsche - Bergeshövede, 31 mi. (50 km)
Again  you have an early start with a sailing breakfast while you enjoy the view on the beautiful surroundings of the Weserbergland. Your bike tour will be from Bad Essen to Bramsche, passing the Teutoburger Wald (Teutoburg Forest) a range of low, forested mountains in the German states of Lower Saxony and North Rhine-Westphalia. You will also pass the Kalkrieser Berg (mountain) where the Battle of the Teutoburg Forest (Varusschlacht) took place. It is described as the Varian disaster by Roman historians, having taken place in 9 CE, when an alliance of Germanic tribes led by Arminius of the Cherusci ambushed and decisively destroyed three Roman legions and their auxiliaries, led by Publius Quinctilius Varus.You are invited to visit this former battle field and learn more about the great history. Entrance fee is included in your trip. In Bramsche the Merlijn will await you, and from here will transport to Bergeshövede.
Day 4: Bergeshövede - Münster, 31 mi. (50 km)
Münster is a city of science, city of sculptures, city of the Peace of Westphalia, and city of bicycles! It is a living metropolis with many faces. You will surely enjoy your night in here and exploring the Altstadt (old town).
Day 5: Münster - Oberhausen - Düsseldorf, 34 mi. (55 km)
You start sailing from Münster early in the morning to Oberhausen. Here your bike tour starts and leads you to Düsseldorf. In Düsseldorf you will have time to explore this great city. Tonight you will enjoy your dinner in one of the many restaurants here in Düsseldorf.
Day 6: Düsselfdorf - Zons - Cologne, 28 mi. (45 km)
While you enjoy your breakfast, the Merlijn sails to Zons. From here you will cycle along the Rhine river to Cologne. Already in the afternoon you can visit Cologne, where the cathedral spires tower (The Dom) over Germany's oldest city and its innumerable cultural and historical treasures, world-famous museums, and active art scene. People meet here for a Kölsch, a chat or simply a laugh. Life in Cologne is uncomplicated and vivacious. You will experience this great city even more in the Altstadt, enjoying a Kölsch as well! Overnight stay in Cologne.
Day 7: Cologne  - Koblenz, 28 mi. (45 km)
Early sailing to Bonn, where your biking tour starts to Andernach, here you will meet the Merlijn. From Andernach, back on board, you motor to your final destination,  Koblenz, situated at the Confluence of the Rhine and Moselle rivers.
DAY 8: Departure from Koblenz.
After breakfast we have to say goodbye to you and hope you had a wonderful experience on the Merlijn!
Be sure to check out all of our featured bike and boat tours, or our full list of bicycle tours.
Email or Call 800-951-4384 +1 570-965-2064
---
Wolfsburg to Koblenz
Boats + Barges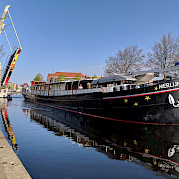 Merlijn Germany, Netherlands Deluxe Class Boat "The Divine Miss M" as we lovingly call the Merlijn is a diva, for sure. What can we say? Is it the luxurious cabins with most comfortable beds you have ever slept in? Is it the lovely dining area with the large windows and skylight that let the air, light, and sun pour in? Or perhaps it is the sun deck, where you can relax with newfound friends, sharing good wine and good conversation. We think you will find it is the entire divine package! Step onboard and discover for yourself!