5

/

5

(

7

ratings)
Romantic Road & the Bavarian Lakes
Bike the magnificent upper Bavaria
Via Claudia Augusta is an ancient and important Roman road completed around 47 AD. The route, known as the Romantic Road, still exists today and is extremely popular among cyclists and hikers, traversing the very ground where history was made.

The art and history of the German people will come alive as you cycle along a road that often winds through forgotten sections of the countryside, connecting walled towns and picturesque villages. Arched gateways, guard towers, gothic cathedrals, half-timbered patchwork houses, and beautiful historic hotels add to the medieval character. You will cycle through alpine pasturelands, dotted with cattle and hear their clanging bells and gaze upon the blue green waters of the many Bavarian lakes reflecting the foothills of the alps and the snow-capped peaks beyond.

Step back in time on this Bavarian fairytale!

Be sure to check out our comprehensive list of bike tours in Germany.

Season 1: £ 666 $ 1,477 € 784 $ 1181 NOK 7383 kr 6815 $ 886

Season 2: £ 709 $ 1,571 € 834 $ 1257 NOK 7854 kr 7249 $ 942

Season 3: £ 760 $ 1,684 € 894 $ 1347 NOK 8419 kr 7771 $ 1,010

Single supplement: £ 183 $ 405 € 215 $ 324 NOK 2025 kr 1869 $ 243

Season 1: April 20 to May 17 and September 28 and October 5, 2019
Season 2: May 18 to June 21 and August 31 to September 27, 2019
Season 3: June 22 to August 30, 2019

extra

options

Electric bicycle rental: £ 89 $ 198 € 105 $ 158 NOK 989 kr 913 $ 119

Extra nights 2019

Augsburg: £ 55 $ 122 € 65 $ 98 NOK 612 kr 565 $ 73

Single supplement: £ 25 $ 55 € 29 $ 44 NOK 273 kr 252 $ 33

Murnau (only possible with Saturday arrival): please contact us for price

please

note

Rates are per person based on double occupancy.

Information to read before you book.

We recommend purchasing bike trip insurance.

† Currency exchange rate set 90 days before travel.

Travel

Fly to Munich airport.

Local Travel

From Munich airport, take the train to Augsburg. Ride is approximately 1 hr 30 mins, cost ± €20 depending on train and connections. Once in Augsburg, it's just a short walk or taxi to the hotel.

Climate

Check local conditions prior to departure as that will help you pack. Average high/low temperature in °F for Augusburg is: April 53/37º, May 63/45º, June 68/51º, July 73/55º, August 73/54º, and September 66/48º.

Remarks

An electric bicycle is available for this tour.

---
Tour
Dates
2019 Dates
Arrival possible on Saturdays and Sundays between April 20 and October 5, 2019
---
Season 1: April 20 to May 17 and September 28 and October 5, 2019
Season 2: May 18 to June 21 and August 31 to September 27, 2019
Season 3: June 22 to August 30, 2019
Skill
Level
This is an easy to moderate self-guided hotel tour. For a regular cyclist, this tour is fairly easy. Routes follow bike paths and country roads with little traffic. Daily distances range from 28 to 38 miles with the whole day to complete the mileage. On the first 3 days, there are some climbs that have to be managed. After Füssen, you bike along the Lech River which is almost completely flat to Augsburg. The roads are mostly paved, but there are some long sections on gravel paths.
Where
You'll Stay
Welcoming and comfortable 3 star hotels & guesthouses.
What's
Included
Accommodations for 7 nights in selected 3 star hotels
Breakfasts
21-speed hybrid bicycle
Luggage transfer
Detailed route descriptions & maps (1 set per room)
Detailed tour information (places of interest, etc.)
7-day service hotline
Sign posted route
GPS tracks (must be reserved in advance)
Bike protection
What's
Not Included
Individual arrival to Augsburg
Remaining meals (lunches & dinners)
Visitor's tax (to be paid on arrival) €8-10 per person
Extra
Stay
Extra nights possible in Augsburg or Murnau (only possible with arrival on Saturdays)
Day-To-Day
Itinerary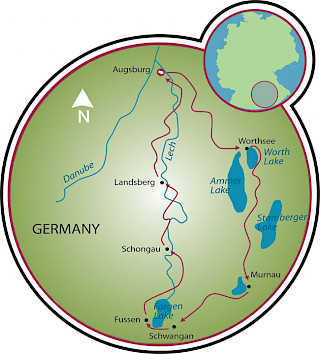 Day 1: Individual arrival in Augsburg
Day 2: Augsburg - Lake Wörthsee, 39 mi. (65 km)
Day 3: Lake Wörthsee - Murnau, 36 mi. (60 km)
Day 4: Murnau - Füssen/Schwangau, 36 mi. (60 km)
Day 5: Füssen/Schwangau - Schongau, 30 mi. (50 km)
Day 6: Schongau - Landsberg/Lech, 21 mi. (35 km)
Day 7: Landsberg/Lech - Augsburg, 27 mi. (45 km)
Day 8: Departure from Augsburg
All distances are approximate.
DAY 1: Individual arrival in Augsburg
Fly to Munich airport and take the train to Augsburg. A college town, and the second largest in Bavaria, it is also (following Trier) the second oldest city in all of Germany. Main attractions include the Perlachturm tower, built in 1182, and the Fuggerei - the world's oldest social housing project. This is a walled enclave within the city (a city within a city) that houses 200 impoverished tenants who pay a symbolic rate of one Euro annually to live in the estate. Rows of quaint yellow flats embraced by vines have stood on this street since 1523. The history of the founding of the complex by the Fugger family, specifically Jakob Fugger, is very interesting if you have time to do a little research. More than a pious contribution to society, this enormously wealthy man had some self-centered motives at heart also. If you visit, be sure to check out some of the rules for residing there, such as dogs are not allowed, cats are!
DAY 2: Augsburg - Lake Wörthsee, 39 mi. (65 km)
The day starts with a welcome briefing and distributing of bicycles. Across green meadows and through rustic Bavarian villages and towns you bike to Lake Ammersee. On the shores of the lake, cozy inns with sunny terraces and shady gardens invite you to take a break. Further on, this bike tour in Germany takes you to Lake Wörthsee which is well-known for its clean, warm water.
DAY 3: Lake Wörthsee - Murnau, 36 mi. (60 km)
On the edge of Lake Wörthsee and Lake Prisensee, you bike to the Andechs monastery. Pass little Weilheim - the monks of the surrounding 12 monasteries contributed to the modern appearance of the town. If you feel like swimming, you have an opportunity to do so in Lake Staffelsee or Lake Riegsee near Murnau.
DAY 4: Murnau - Füssen/Schwangau, 36 mi. (60 km)
Pedal your way through beautiful meadows and idyllic pastures to Füssen/Schwangau. Along the way, you can't miss the famous Wieskirche (Bavarian Rococo). Among other highlights of Füssen, you may find the oldest fresco in all of Germany in the crypt of St. Mang Basilica. It dates back to about the year 980.
DAY 5: Füssen/Schwangau - Schongau, 30 mi. (50 km)
It is recommended that you visit King Ludwig's fairytale castle in Königswinkel - Hohenschwangau and Neuschwanstein -  and the excavated Roman thermal bath at the valley station of Mount Tegelberg. Via Steingaden and Peiting, you will cycle along the scenic Via Claudia Augusta to Schongau.
DAY 6: Schongau - Landsberg/Lech, 21 mi. (35 km)
Schongau is an ancient Bavarian fortress. Despite its violent past, the old city wall is still in very good shape.
Today you enjoy the marvelous view over the valley of the Lech River. Altenstadt (Roman Basilica), Hochenfurch, Epfach (Roman Abodiacum, museum) and Vilgertshofen (baroque pilgrim's church) are points of interest you may want to visit before you reach Landsberg.
DAY 7: Landsberg/Lech - Augsburg, 27 mi. (45 km)
Visit the medieval old town of Landsberg/Lech surrounded by the wild Lech River. You may want to visit the historic town hall and gothic Bavarian gate. You pedal further via Kaufering am Lech (translated Kaufering on the Lech) to Königsbrunn along 11 km of the best-preserved section of the Via Claudia. Finally, you come to the old Bavarian residence Friedberg and on to Fugger city Augsburg. Many monuments from all epochs dominate the appearance of the city.
DAY 8: Departure from Augsburg
Looking for more?  View all our featured bicycle tours, specials, and news or look at our full list of bike tours in Europe.
Email or Call 800-951-4384 +1 570-965-2064
---